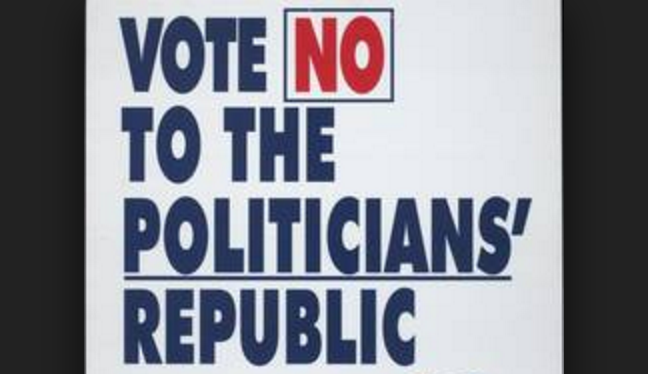 In November 1999 Australians through a nationwide Referendum decided NOT to create a Republic. This was a confirmation to the Government that Australians wanted to remain as Australian with an Australian Constitution—we wanted to stay with what we knew. But what the Australian public didn't know is that our Labor politicians were working really hard behind our backs.
One month earlier, on United Nations Day, the UN introduced a Charter for Global Governance (One World Government under the United Nations). They called it Global Democracy but it really stands for "International Socialism". In October 1999, our Referendum the UN voted us in to its ranks…one month BEFORE our Referendum.
Next, the politicians removed the  "Oath of Allegiance to the Crown"  from our Law Courts. They sold us out to the United Nations expecting Australia to vote "Yes for the Republic" by Referendum.
BACKGROUND: The United Nations Security Council that oversees all the armed forces of the world was formed in 1943 based on the Communist Constitution of Russia (All the way up to 1988 all the Secretary's (Head) of the UN Security Council were all Communists.
Another UN body that looks after education—UNESCO was the same deal. The secretary, Vice President and President were all Communist. In fact 12 Judges of the World Court…were all Communists. Why is this important is because of the stated aims when it comes to the global education of our children. The original Commission of UNESCO was written in 1946 by Julian Huxley—and became the organisation's first director-general. He was a Fabian Socialist.
This is Huxley's basic philosophy about education for UNESCO—destroy patriotism of your country and make teachers and the State controllers of your children's education. (You only have to look at the "Safe Schools" to see how State governments had been planning to roll out this program without the parent's consent.)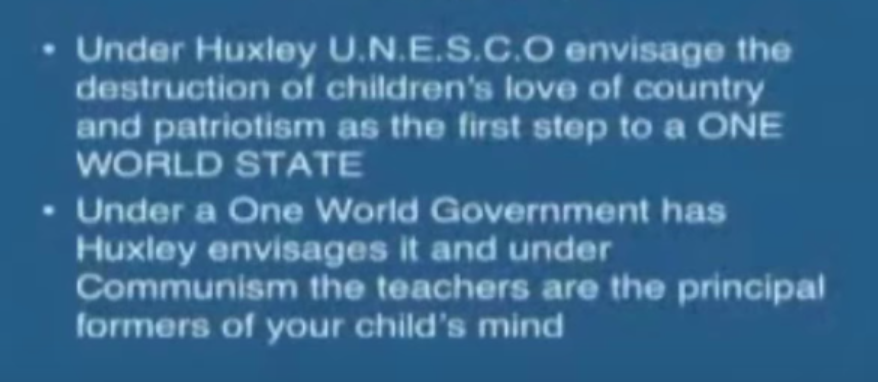 That is the United Nations Agenda to oversee the programming of our schools. If you have ever wondered why your children call you a racist for standing against Islam or from joining the rest of the world in  global government, now you have your answer—UNESCO programming—taught in our publicly paid for schools, by teachers who have gone through our Socialist majority universities.
Here is the 2016 UNESCO plan from the Australian Government website. As you can see it is committed to increasing UNESCO's role in our education system.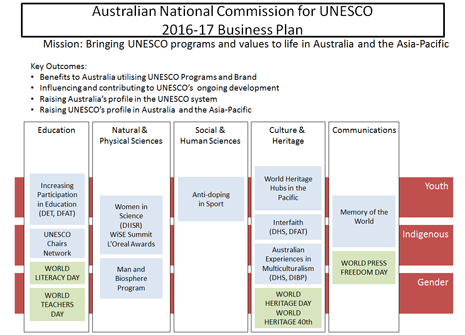 UNESCO incorporated in Australia and you can see the people who made it happen. Top of the List was our Governor General—Quentin Bryce and check it out…Michael Kirby was also a Patron—who was a High Court Judge.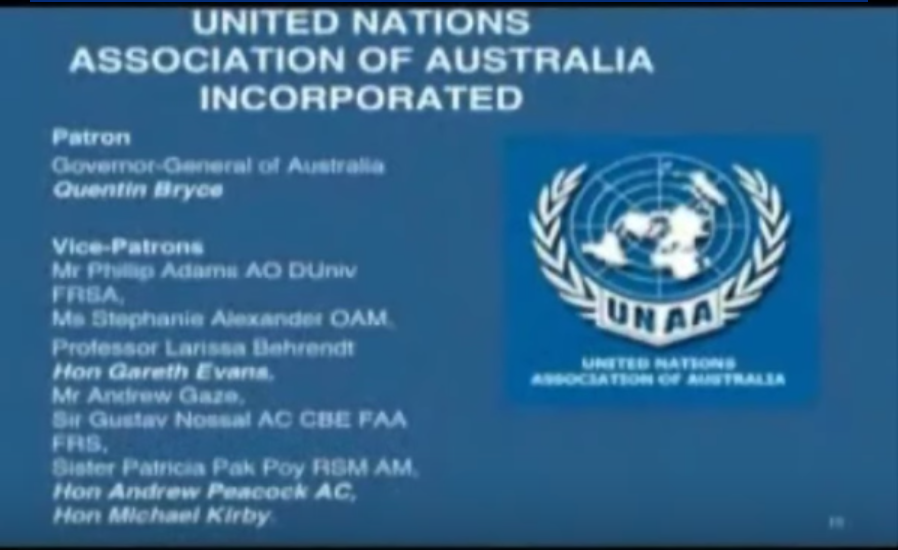 This was done under Hawke who was a Fabian Socialist. (Fabian Socialists want a One World Government under the United Nations. Keating was one, so was Gillard. Howard was also reported as being a Fabian Socialist.) Hawke while he was in power introduced the Australia Act of 1986, (without a Referendum). The Act removed the British control of Australia and the High Court  became the highest Authority. Interestingly Kirby who was a Vice Patron of UNESCO argued that the Australia Act was inconsistent with Section 106 of the  Constitution.
However, if we became a Republic and put in a new Constitution these anomalies could be sorted out. This is what Labor Kim Beasley said in Parliament in 1990. You can see they were already angling for the Republic Referendum back here.
The Queen assented to the Australia Act 1986 (UK) on 17 February 1986 and on 24 February proclaimed that it would come into force at 0500 Greenwich Mean Time on 3 March 1986.
So, according to Labor if WE BECAME A REPUBLIC Australia would be handed over to the United Nations.
Were the UK Government aware of Labor's motives in allowing the Australia Act to come about? You bet. Check out this statement made in the UK Parliament.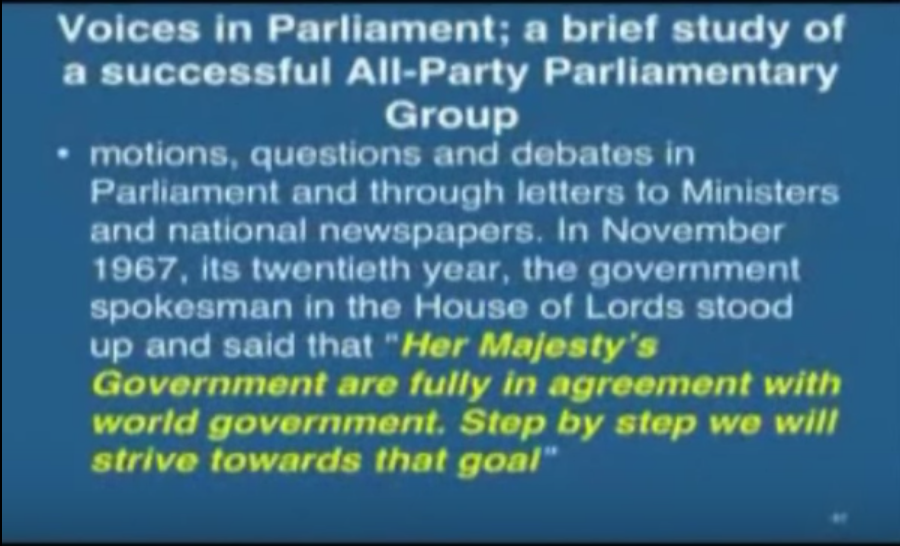 That is why they allowed Hawke to remove the Crown and opened Australia up to the United Nations.
However the United Nations is a Foreign Power. As we are still not a Republic our Constitution stands. Section 44 of our Constitution stands concerning holding position in either House of Parliament. Simply said anyone who adheres to the United Nations needs to be removed from Government.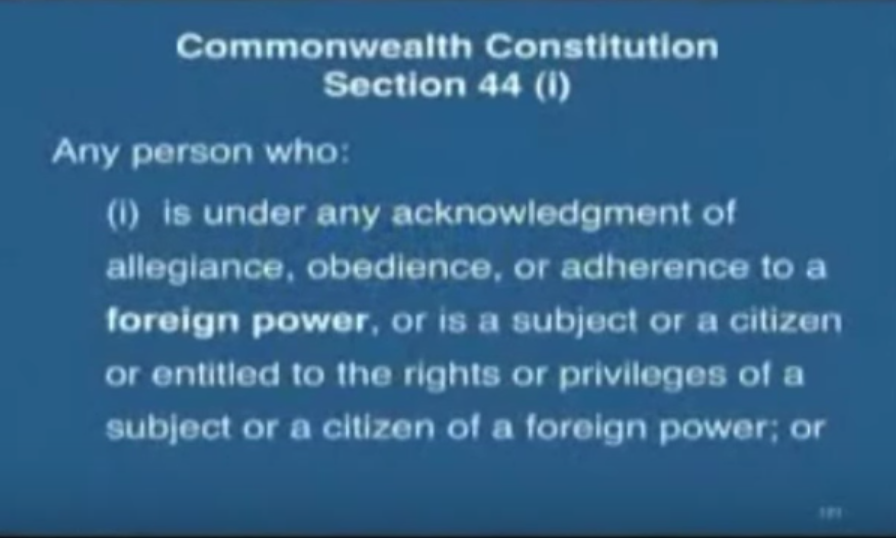 When Whitlam came into power within 2 weeks he signed us up to the " UN—INTERNATIONAL COVENANT ON ECONOMIC, SOCIAL AND CULTURAL RIGHTS". A treaty that essentially gave cultures like Muslims the right to practice Sharia in Australia under the UN's mantra that "Every culture is Equal".
HAWKE signed us into 6 different UNESCO Conventions.
KEATING : signed us up to CONVENTION CONCERNING TERMINATION OF EMPLOYMENT AT THE INITIATIVE OF THE EMPLOYER That ended up as Unfair Dismissal—It was was a UN initiative!
HOWARD: Disarmed Australia in 1996  a key objective of the United Nations committee of Regional disarmament committee formed in 1990 which Australia supported from Day one.
RUDD in keeping with the requirements of the "UN Rights of Indigenous Peoples"—apologised to the Indigenous people of Australia—another UN initiative.
GILLARD came into power, she signed us up to the UN Kyoto Agreement for Green House Gas Emissions.
BISHOP launched our bid to sit on the UN International Commission of Human Rights
TURNBULL signed us up to the UN Climate Change Convention, committing Australia to millions of dollars in Carbon emissions Taxation after Tony Abbott had refused to join and was deposed of weeks before the date of the UN convention.
There are others that will need to be added to this list which we will keep updating. It is important also to note that all but Turnbull are Fabian Socialists—internationalists that want to see the United Nations take control of Australia. Turnbull is a globalist with links to the Bilderberg Group, whose members include David Rockefeller, Bill Clinton, Angela Merkel and George Soros. They aim in using the UN as a de facto world government imposing a UN tax on "world citizens;"
The United Nations according to the Australian Constitution is a foreign power that we never had a Referendum to join. Yet our politicians have been working with it to undermine the sovereignty of Australia while they play their globalist games—not worrying about the farmers they drive to suicide; the manufacturing industry they destroy; and the destruction of social cohesion due to their radical immigration plans. This Socialist experiment has cost us our financial stability and cost thousands of lives of farmers and other people in business who have been betrayed by the Fabian and Masonic politicians.
Citizens of Australia…we have traitors in our midsts. We need to get out of the UN and stop this erosion of our country.
There are also 4 videos (10 minutes each) worth watching on the subject:
1. https://youtu.be/Kh3Kb2cgZgc
2. https://youtu.be/HSNxzuz1jR8
3. https://youtu.be/4tlsaw3yXrE