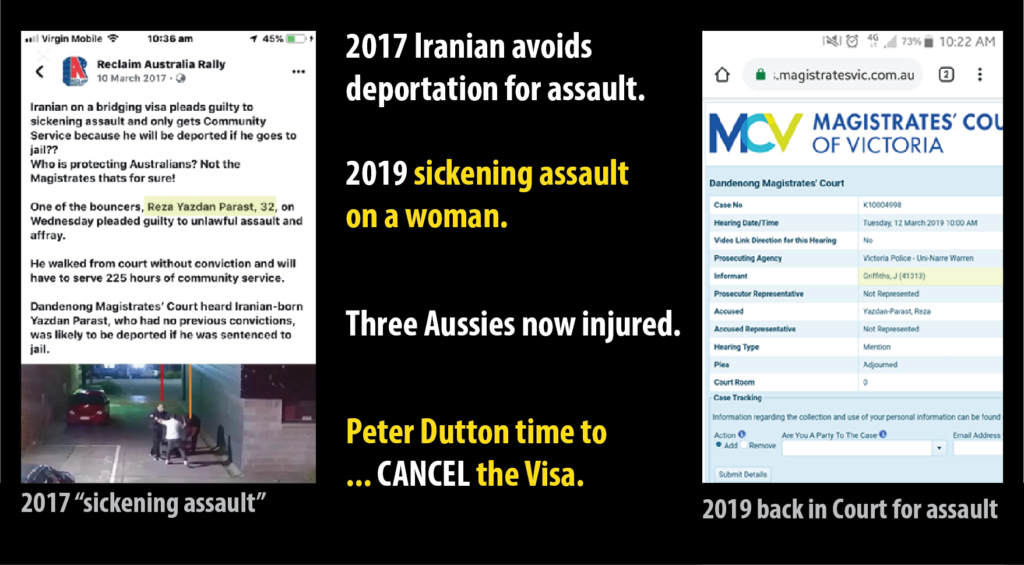 REZA YAZDAN PARAST avoided being deported from Victoria by having to serve 225 hours of community Service. He committed what was described as a "sickening assault" on two patrons of the Sin City Gentlemen's Club in Dec 2016.
"BRUTAL footage has emerged of two strip club bouncers punching and kicking drunk patrons to the ground after they were ejected from the Dandenong venue.
The sickening vision shows the security guards ramming one of the men headfirst into a brick wall, repeatedly kicking him as he lay on the ground, and leaving the other apparently unconscious before dragging him to the footpath.
The violent assault came after the two men were kicked out of the Sin City Gentlemen's Club in Langhorne St on December 16 last year.
One of the bouncers, Reza Yazdan Parast, 32, on Wednesday pleaded guilty to unlawful assault and affray.
He walked from court without conviction and will have to serve 225 hours of community service.
Dandenong Magistrates' Court heard Iranian-born Yazdan Parast, who had no previous convictions, was likely to be deported if he was sentenced to jail."
Parast only completed 117 hours of his 225 hours but who is counting? Now he is back in court after an equally sickening violent attack—this time he bashed a woman. A further two people have gone into hiding as a result of those charges being laid.
That makes a total of FIVE Australians that have had their peace violated by this immigrant on a bridging visa. Three of whom have been physically assaulted to a point described by our society as "sickening".
There is a criteria of behaviour required for all wannabee citizens of Australia. Clearly this violent conduct violates our behaviour code for the peaceful resettlement into Australia.
How many Australians have to be hurt before action is taken by Immigration and Border Control to expel Parast as unsuitable for resettlement in Australia. Mr Dutton, can we have that number please?