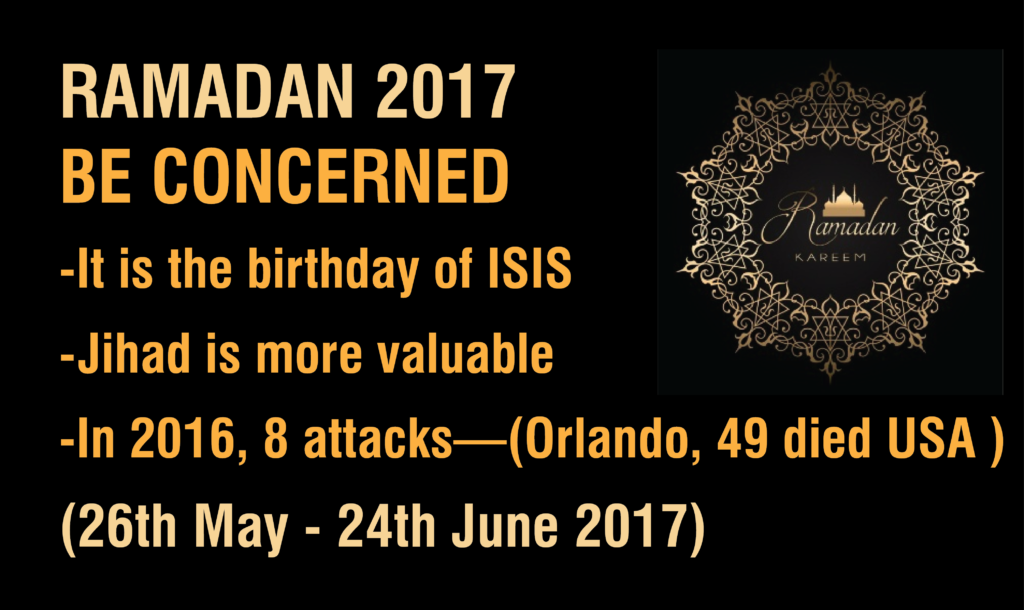 Ramadan is a Muslim month of sacrifice. According to Islamic practice, sacrifice during Ramadan can be considered more valuable than that made at other times, so a call to martyrdom during the month has more allure to some Muslims during this time.
ISIS also declared itself a Caliphate during Ramadan on 29 June 2014.
In the past two years we have seen the large killings against the West by Muslims were during Ramadan.
(France, Tunisia, Kuwait, Orlando, Turkey Airport)
The 2017 Manchester Pop Concert Bombing may just be the precursor for the 2017 Ramadan period, according to the latest ISIS video released just after the bombing.
In the 2015 video, ISIS spokesman Abu Mohammad al-Adnani called on jihadists to "get prepared, be ready … to make it a month of calamity everywhere for nonbelievers…especially for the fighters and supporters of the caliphate in Europe and America."
The 2015 three attacks across three continents took place three days before the one-year anniversary of ISIS declaring itself a caliphate. They occurred on the Friday 26th, during this Islamic holy month of Ramadan. in France, Kuwait and Tunisia were launched early on Friday morning. 60 died on Friday after attacks on a beach resort in Tunisia, a mosque in Kuwait, and a factory in France.
2016 An audio recording released on May 21 heard ISIS Spokesman, Adnani saying: "Ramadan, the month of conquest and jihad." He urged jihadists to conduct lone-wolf attacks for a "great reward of martyrdom" and said ISIS wanted to "punish the crusaders day and night".
2017 Ramadan—Precursor the Manchester Pop Concert Bombing
An ISIS video surfaced online showing an ISIS jihadist saying "this is only the beginning" after the Manchester 'terror attack' that killed more than 20 .In the unverified footage, a man wearing a mask and sitting in front of a black flag making the ominous warning. The man then holds up a sign bearing the words "Manchester 2017-05-22", a reference to yesterday's date. In the video the masked man says: "In the name of Allah the merciful, the grateful, this is only the beginning."The lions of the Islamic State are beginning to attack all the crusaders. Allahu akbar. Allahu akbar."
Hours later ISIS claimed responsibility for the attack via the Reuters news agency and the killer was named as Salman Abedi.
Manchester could just the beginning of the worst Ramadan sacrifice period yet.
Ramadan in 2017 will start on Friday 26th May and will continue to Friday 24th June.
—Be warned.