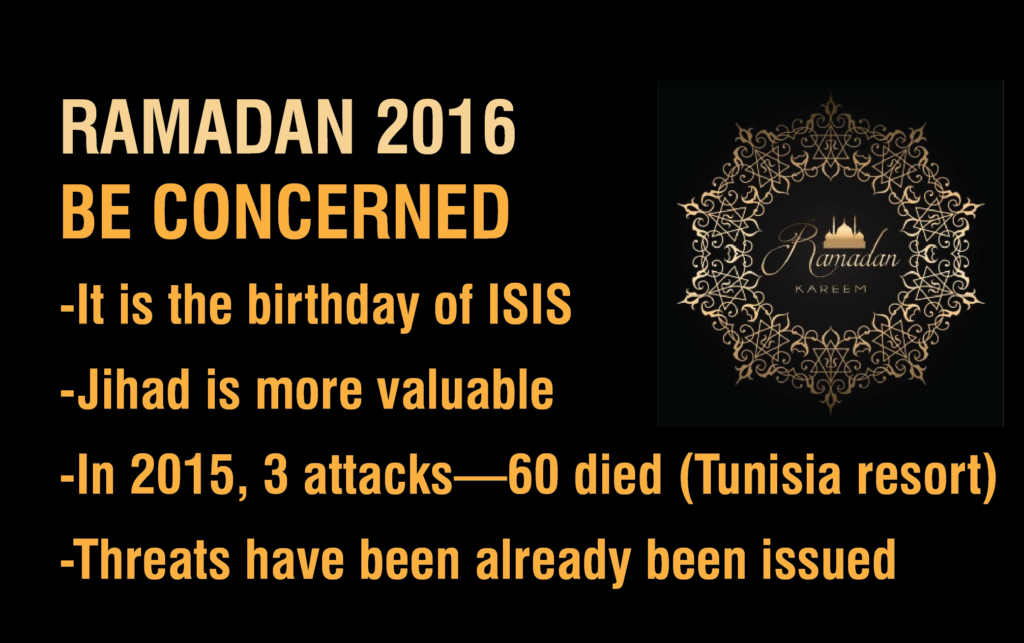 Ramadan is a Muslim month of sacrifice. According to Islamic practice, sacrifice during Ramadan can be considered more valuable than that made at other times, so a call to martyrdom during the month has more allure to some Muslims during this time.
ISIS declared itself a Caliphate during Ramadan on 29 June 2014.
In the 2015 video, ISIS spokesman Abu Mohammad al-Adnani called on jihadists to "get prepared, be ready … to make it a month of calamity everywhere for nonbelievers…especially for the fighters and supporters of the caliphate in Europe and America."
The 2015 three attacks across three continents took place three days before the one-year anniversary of ISIS declaring itself a caliphate. They occurred on the Friday 26th, during this Islamic holy month of Ramadan. in France, Kuwait and Tunisia were launched early on Friday morning. 60 died on Friday after attacks on a beach resort in Tunisia, a mosque in Kuwait, and a factory in France.
2016 An audio recording released on May 21 heard ISIS Spokesman, Adnani saying: "Ramadan, the month of conquest and jihad."
He urged jihadists to conduct lone-wolf attacks for a "great reward of martyrdom" and said ISIS wanted to "punish the crusaders day and night".
England Euro 2016 fans dressed as crusaders have been warned they could be ISIS targets and a Whitehall insider said ISIS are planning a chemical weapons blitz on English footy supporters.
A U.S. government advisory warned those visiting Europe that terror attacks could be carried out at the European soccer championship scheduled to begin June 10, and a Catholic World Youth Day in Poland July 26.
The U.S. Embassy in South Africa cited the Ramadan threats and said "terrorist groups are planning to carry out near-term attacks against places where U.S. citizens congregate in South Africa, such as upscale shopping areas and malls in Johannesburg and Cape Town."
Ramadan in 2016 will start on Monday June 6 and will continue until on or around Thursday July 7.