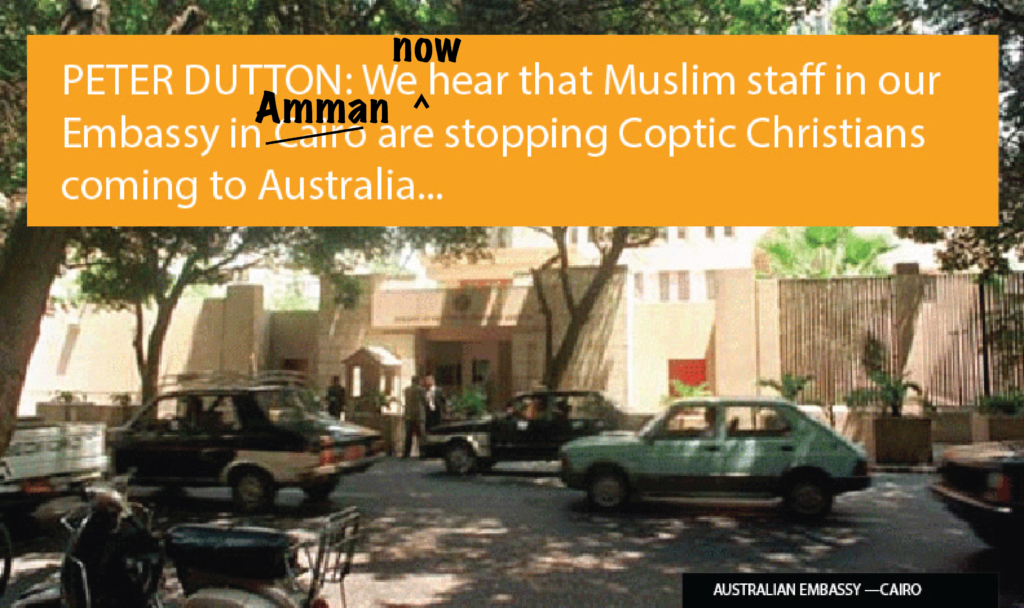 Another Australian Embassy is putting Muslims first. This time it is the Australian Embassy in Amman, Jordon. The reason we know this is that a family member has contacted an Australian patriot page with their story who then became a witness to the blocking of this Christian family by embassy staff.
After fleeing ISIS persecution in Egypt a family of Coptic Christians (names withheld) went to Jordon and applied to the Australian Government for assistance. They already have a son and other family members in Australia. They applied for an "Australia Refugee and Humanitarian visa" (sighted). They were told to wait for an interview with our embassy in Amman.

Nine months passed and no one from the embassy in Australia contacted them for their interview despite numerous email contacts.
MESSAGED: "My father, mother and brothers they have got approval to come Australia since last September and till now they are waiting for interview to come to Australia. They tried to call the embassy but they don't respond to them and I send them e-mail and they never respond to me too and My family are living in Jordan as refugees."
After contacting the page, one of the admins liaised with Peter Dutton's office who told the family to immediately go to the Embassy in Amman, Jordon
ADVICE: "take all their paperwork and walk into the embassy and make an appointment, don't wait for them to return calls or emails.. They will then be forced to make an appointment".
This was then relayed to the family.
The father went to the Embassy by taxi and attempted to enter the Embassy only to be blocked at the entrance by Security guards who sent him away.
MESSAGED: "My father went to the embassy by taxi but the security guard prohibited him … Then he begged them but they told him go home we will call you".
There was no call.
This is yet another case that has been brought to light though our Australian patriot pages.
MESSAGED: "I don't know why they do that with Christians"
It appears that Christians are receiving no assistance from Embassy staff in our Australian Embassy in Amman—to the point they are even being BLOCKED from entering our Embassy by Security Guards.
Is the true face of Australia in the Middle East—MUSLIM ONLY? It speaks of corruption and we demand that Peter Dutton, Minister of immigration investigate.