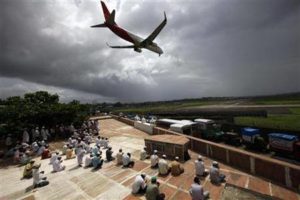 The following is an article from Stop the mosque in Bendigo on the strategic placement of mosques especially in 2014 near airports and defence facilities.
"NOW THIS IS INTERESTING…
Of the new islamic fortresses (mosques) initiated this year 100% are 0-10km from an airport/airfield/RAAF base—and no one finds this is suspicious and worth ASIOs attention instead of the Local Councils rubber stamp?"
Bendigo—3 km to Defence Force Mapping Facility; 1 km from airport; short flight to Puckapunyal Army and RAAF base,
Currumbin—6km to Gold Coast Airport,
Kalgoorlie Boulder is close to Airport; and Explosives School
 Mareeba—Marreeba airfield and 4hrs drive or short flight to Lavarack - Barracks and RAAF base Townsville,
 Penrith—Glenbrook RAAF base,
 Sunshine Coast—Airport,
Tarneit/Truganina which happen to be adjacent to the RAAF bases at Laverton & Point Cook in Victoria.
Toowoomba's first mosque opened this year; 1 minute to the airbase home to 210 Squadron Australian Air Force Cadets', and a couple of minutes flight from there (33 mins by car) to Oakey Army Aviation base.
I just can't believe we aren't treating this as hostile!
They are strategically positioning to take out many of our Air Defences & Army Bases."
Then the Supporters Comments started coming in:
I live in oakey and we had our air museum closed recently when the terror level was raised.
If you look at maps where mosques are ( and have already) being built, they have encircled Sydney, they have encircled Melbourne and they are working on the transport corridors in the Brisbane/Gold Coast area. My guess is the same strategy is also being carried out in other cities.
Canberra times front page this morning a 3rd one is being built here. DA submitted I think. So one Northside, Southside and central. How big do they think canberra is? Takes 40 mins to drive one side to the other in peak hour even! My objection will be going in.
Berwick south to tooradin airport 19.7 Kim's ….. Just did my research.
I have a mosque right next to me that is only 15 min drive from the airport and that is adelaide's airport
"House of Allah on waterworks road, North Ipswich, is about 10km as the crow flies to amberly raaf base by road 17km,
and you can add Dee Why Mosque, 12 South Creek Road, Collaroy AND No.305 Squadron, 70 ASouth Creek Road, Collaroy….I'm sure they hold a stock of firearms on site?
There is a mosque every hour from Melb to Horsham and from Melb to the NSW border
And the mosque that is trying to get approval from Penrith Council, won't be all that far from the proposed new airport in Western Sydney
There is a mosque in planning for Salisbury SA , very close to Weapons Research Area , Edinburgh Airforce base , Submarine Manufacturer, the Airport where foreigners are taught to fly ( Parafield ) , Mawson Lakes a technology hub.
Courtesy: Stop The Mosque in Bendigo
https://www.facebook.com/pages/Stop-the-Mosque-in-Bendigo/1409152012662221?sk=notes