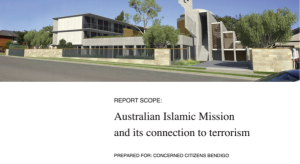 Summary. The Australian Islamic Mission (AIM), formerly Jamaat Daawah Islamiah, was established in 1973. It operated out of rented premises first in Lakemba then on Canterbury Road in Revesby.
Australian Islamic Mission (Punchbowl Mosque) is behind the Bendigo Mosque. The Security Report details support for the Muslim Brotherhood, Hizb-ut Tahrir, the Caliphate and Sharia Law for Australia.
The Report was prepared for the Concerned Citizens of Bendigo and details speakers that Punchbowl has endorsed by allowing them to present at their mosque and the subject matter they champion.
The Report details support for the Muslim Brotherhood, the establishment of a caliphate, call for jihad, Hate Speech and Sharia Law for Australia.
The concerns raised by this report led to it being submitted to the Bendigo Council Planning Department at 3.00 pm prior to the Bendigo Meeting to Vote on the Mosque Planning Application. Later we were informed that it was glossed over at the final Council briefing. The Bendigo Planning Department either knowingly or unknowingly chose not to make Councillors aware of its contents.
This same report was submitted to National Security. Two days later Australia's borders were coincidentally closed due to Islamic Terrorism.
This Security Report was subsequently submitted to VCAT for consideration of "security" for Bendigo in this recent hearing. Even though objectors opted not to present the materials personally due to heavy media bias—it was once again put aside by those meant to be protecting our safety and interests.
Yesterday the Bendigo Advertiser reported on the difficulty Bendigo Residents Group have had in getting expert witnesses willing to appear at this Hearing and to speak up against the mosque planning permits because of this same heavy media bias around the issue.
We believe this information needs to get out in Australia's best interests. Please read the report and please Share. We need to bypass the ongoing media bias that is attempting to suffocate information on this subject.
HERE IS THE FULL REPORT—Interim Security Report on Australian Islamic Mission, backers of the Bendigo Mosque.
EXTRACT OF THE REPORT:
On Saturday 13 June 2010 there was an Official Launch of AIM Mosque —School Fundraising Campaign to raise funds for the development of a mosque and school in Punchbowl. The Guest Speak was Dr Tareq Al-Suwaidan who is described as a "renowned Islamic Author" and Entrepreneur from Kuwait—(He is rated second in world of Islamic Speakers, he has a PHD in Petroleum Engineering and a leader of Muslim Brotherhood in Kuwait. He describes himself as a modest Islamic. He also made a point of saying that  he was not getting paid for this…"This is my contribution to the Muslim Ummah.")
You need to watch this video. He is a jihadi and in preaching jihad to the audience…It is a long video (145 minutes) but I recommend you watch it to get the full import of the message.
 Dr Tareq Al-Suwaidan: The Future of Islam—"We want to lead the world because we believe deeply that we have the system to make humanity happy. We believe it deeply."
"Islam shall conquer the World"
He seems to be encouraging the congregation to jihad he says
"When you love this life so much and hate death so much, then you become weak. This Ummah has only one hope: it is to love al-Akhira (the Afterlife) and be ready to die"
He says
" The victory is coming. It is the duty of everyone of us."
He spells out the importance of establishing Muslim schools, mosques, community organisation etc to further the cause.