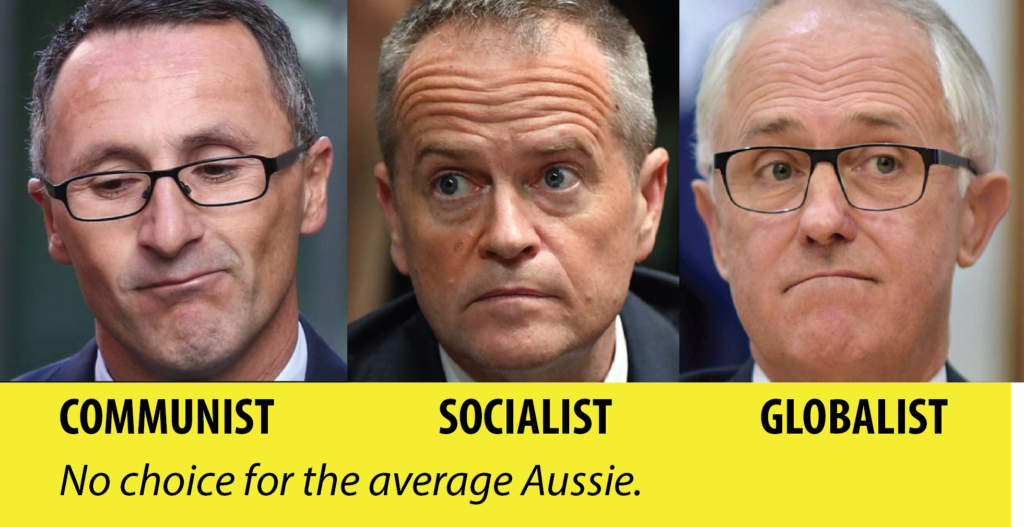 Voters are waking to the realisation that voting Lib/Lab/Green is a choice AGAINST our national interests in different forms—from Globalism under Turnbull to straight out Communism under the Greens.
These three Political Parties in particular are characterised by the one notion, that their Party has all the answers and that you should vote for them for the "Common Good" of all. This is the Great Deception.
People will tell you that politics are economic models about who owns industry.  Nope, Globalism, Socialism and Communism are models where "the Party" determines what is good for the people. They replace the right of "We the People" to self-determination, with their various "think tanks" and experts. This goes against Our Constitutional model of self-government and our Democracy.
Lib/Lab/Green are parties that are all tarred with the "we know better than you"  brush and "We the people" have got sucked into believing it and giving them our consent.
Political Parties in our Parliaments are the reason our Democracy is spiralling towards Socialism and why our country is financially deteriorating.