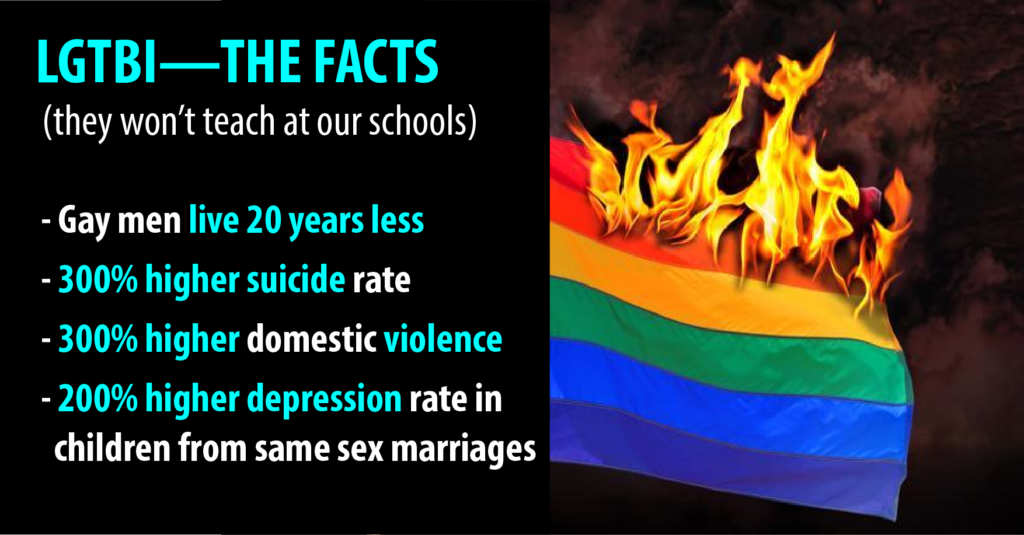 As a society we are being conditioned to accept that LGBTI is a legitimate lifestyle choice. In Victoria and Canberra parents are being forced to have their children preached this message under "Safe Schools" complete with descriptions on what each of those same lifestyle choices entail. The problem with this LGBTI (Humanist) Agenda is that they are just not telling the whole story.
These are the facts from four recent studies that need to accompany all discussion on LGBTI life choices.
Gay men live 20 years less than their opposite sex counterparts.
Suicide in gay couples is 300% higher than opposite sex couples.
Domestic Violence is up to 300% higher in same sex coupling.
Children of same sex couples are 200% more depressed.
Our schools are doing a fine job educating children about dangerous activities such as smoking and the use of illegal drugs. But they are increasingly teaching that homosexuality is the same as heterosexual behaviour—It certainly isn't. These studies prove that homosexual activity literally, is much worse than smoking, and yet the schools continue to teach that it is normative and safe behaviour. We must demand that schools and media now start delivering ALL of the facts otherwise we fail as a community to safeguard our innocents. Here are the Studies.